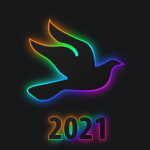 Dove
Dove R3 is one of the more simple and easy to use exploits featuring a brand new, never seen before user interface. It is multi-api powered and has Coco Z2's execution capabilities. This new revision fixes major UI bugs and glitches that were present in the old UI. The update also adds new features and UI elements such as smooth animations, interchangeable sound effects, easter eggs, daily and updated tips, etc. There is an advertised key system in place to help support the developers. The key system goes away very frequently for holidays and just when I feel like removing it. Download this FREE unique and powerful exploit today! (I may even give you a cookie!)
Note: All advertisements, logos, banners, and other assets are created by Ducxy (DexProducts) and should be used only by fair use..
Download Now
Instructions
Get going in just a few seconds!
Join a game and wait for it to completely load
Make sure Dove is opened. (Complete the key system if requested)
Inject Dove and start using it
FAQ
Who is the head developer?
Ducxy is the head developer of Dove. Ducxy is a well known member on the WeAreDevs community.
How do I run Dove?
Disable all anti-viruses on your system. Then download and extract the file wherever you'd like. Finally, run Dove.exe and wait for it to load.